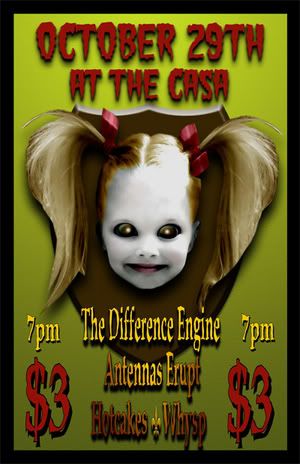 Antennas Erupt (free jazz from Santa Cruz)
Whysp (SC psychedelic folk, new album produced by Phil Elvrum of the Microphones)
Hotcakes! (Mobile's own sleazy rock 'n' roll types)
The Difference Engine (Eastern Shore noise-rock)

if you can get to South, you can find the Casa.



1: Start out going SOUTH on N UNIVERSITY BLVD.
2: Turn SLIGHT RIGHT onto USA DR S.
3: Turn RIGHT.
4: Turn SLIGHT RIGHT onto HILLSDALE RD.
5: HILLSDALE RD becomes MIDDLE RING RD.
6: MIDDLE RING RD becomes LISLOY DR.
7: Turn LEFT onto LISLOY CT.
8: End at [5800-5899] LISLOY CT MOBILE AL
9: The Casa is the house right on the corner. Jam.